On Thursday morning an SUV ran a red light, struck a mini-van and sent it into the patios of Bottlescrew Bill's Pub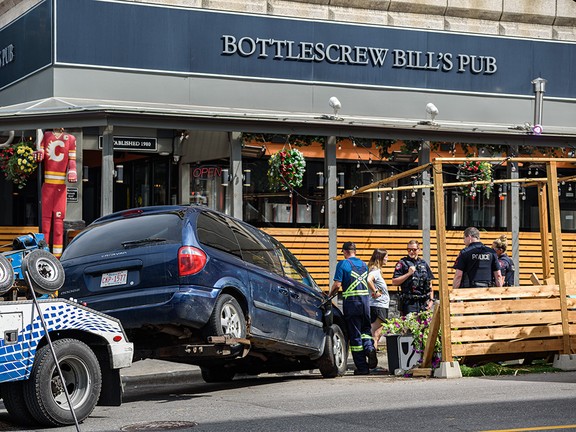 Article content
A van that crashed into a patio at Bottlescrew Bill's Pub in downtown Calgary has raised concern over the safety of the popular restaurant patio concept.
Article content
On Thursday morning, an SUV ran a red light at the intersection at 10th Avenue S.W. and 1st Street S.W., striking a van and sending it into the eatery, destroying an on-street patio and a second patio on 10th Avenue. Luckily, the establishment was about 45 minutes away from opening and no one was seated in the patios nor were any pedestrians hit.
"I'm sure that given the situation yesterday, that our transportation department will be bringing this back toward administration and also to council with possible recommendations that do employ vehicle collisions," said Coun. Terry Wong (Ward 7). "Concrete jersey barriers would probably be the more appropriate barrier, as opposed to steel fencing that you typically see" surrounding these patios.
Article content
Council did make changes this spring to the patio program to improve accessibility for pedestrians, particularly for those with strollers and mobility issues. The changes pushed many of the sidewalk patios further onto the streets so pedestrians were not being diverted from the sidewalk.
There are various barricade options in use at restaurant patios. Bottlescrew Bill's used a combination of them, with a concrete jersey on the east side of the patio, large planters on the west side, and fencing. (Jerseys are the often-seen concrete barriers that sit about 32 inches, or 81 centimetres, high.)
At Bottlescrew Bill's, the patio was designed in consultations with the city, an engineering firm and the Victoria Park BIA.
Article content
Geoff Allan, general manager of the pub, said if the patio does come back next year, the establishment will be looking at a range of options for safety. But, he noted, he was unsure what could be done to stop a mini-van.
"There's not much you can do if you're walking on the sidewalk and a car gets clipped going through an intersection. It's going to change the direction of that other vehicle, which is what happened in this situation," said Allan. "I think we would have taken a lot more damage to our business had that patio structure not being there." Speed and alcohol are not believed to be factors in the Thursday collision.
He noted that initially they would have liked to have concrete jerseys or barriers up around the entire patio, but it was cost prohibitive and not part of the city-run patio program.
Article content
Chris Toombes said he expects something like this to happen sooner or later where he lives on 17th Avenue S.W., due to the increase in cars and bikes racing along the route and a lack of police presence. He said it gets worse on weekends and he will not eat on the patios for this reason.
"From Macleod (Trail) up along 17th Ave to 14th Street S.W., cars and bikers rev their cars, sprint between lights, race at speed within inches of diners on 17th Ave S.W.," he said in an interview through social media. "Would you want to risk your life for a burger?"
Wong said the city has not received many safety concerns regarding the patio program, beyond pedestrian flow.
A spokesperson for the city of Calgary said they had issued 85 seasonal patio permits on public property and the city is open to further adjustments.
Article content
"We continue to monitor this situation and where improvements can be made," read a statement. "The City is also taking part in regular discussions with cities across Canada to ensure we are in line with standard safety practices being used in other Canadian jurisdictions."
Mark Garner, executive director for the Calgary Downtown Association, applauded the approach the city has taken to patios, which have for the most part been without major safety issues until this week.
He said other cities have surrounded the patios with concrete jerseys and that makes the area look like a permanent construction zone. The variety in the types of barriers used in Calgary has brought life and colour to streets and neighbourhoods, as opposed to taking away from it. This includes mural projects and paint on many of the concrete jerseys in the downtown area.
Article content
To improve safety, he said the city could look at reducing the speed on these streets during patio season. However, he pointed to city data that shows the summer is actually one of the safer times for pedestrians when it comes to traffic collisions and this should be taken into account.
"I think they're safe," he said. "I would hate to see them turn into construction sites … because of a patio. I think what we need to do is we just need to get the community familiar that in the summertime, these types of things will be on street because it creates great public space."
Ernie Tsu, president of the Alberta Hospitality Association, said the patio program has been important for restaurants and bars during the pandemic and in recovery, and safety has been taken into account in their design and construction.
"It's been a big lifeline for all the restaurants," he said.
Twitter: @JoshAldrich03