Here's how many of us see your 'freedom protest.'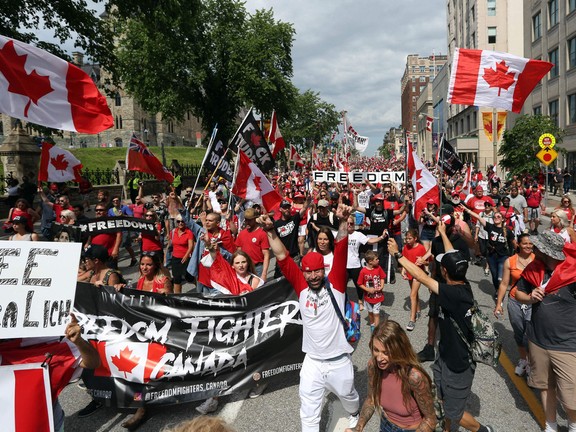 Article content
This is not a love letter …
Article content
• To the woman in the pink T-shirt, spewing spit, nasty names and bad words into the face of the police officer preventing you and your friends from paralyzing downtown Ottawa this past weekend: please go home and find something better to do with your apparently considerable time and resources. Could you volunteer at a food bank or a women's shelter? Walk your neighbour's dog? Some of your friends appear to be politically blind, deaf and dumb. Could you host a study group and read Canada's Constitution together? A tutorial on the meaning of democracy would be useful and perhaps surprising to you.
• To the cop who was surely resisting the urge to clap the pink T-shirt into a straight-jacket and put her in a corner for a time-out: mad respect.
Article content
• To the young, brown-skinned couple trying to return rental bikes to the Château Laurier: you looked justifiably frightened at the prospect of walking down the middle of this angry confrontation. I'm sorry. Also please know the people gadding about in their underwear with Canadian flags draped around various parts of their bodies were not part of sanctioned Canada Day festivities.
• To the hundreds of people who stood in a lineup that rivalled clearing customs at Pearson International to meet one of your leaders: I'm sorry no one told you could have been lining up at nearby Confederation Park to meet some of the true prophets of our age, at one of the most prestigious music events of the year — the International Jazz Festival. I hope whatever your messiah chewed, swallowed and regurgitated at you was worth waiting for.
Article content
• To the musicians and performers at the Jazz Festival: thank you. You were illuminating; transportive; divine.
• To Canada's veterans: I am sorry our cenotaph has been turned into a meet-up, photo-op and political platform for the peevish and petty.
• To the citizens of Ottawa: you don't want to know what this latest endeavour to keep the occupiers from running roughshod over our city has cost you. Just add it to the tab already estimated in the millions of dollars.
• To my friend and neighbour who wishes the media would just stop giving these people any ink or airtime whatsoever: you're right. I'll try. But it's been a long career of running towards train wrecks, infernos and side shows. It might not be easy to look the other way the next time — that's right, the next time — this convoy rolls into town.
Becky Rynor is an Ottawa writer.