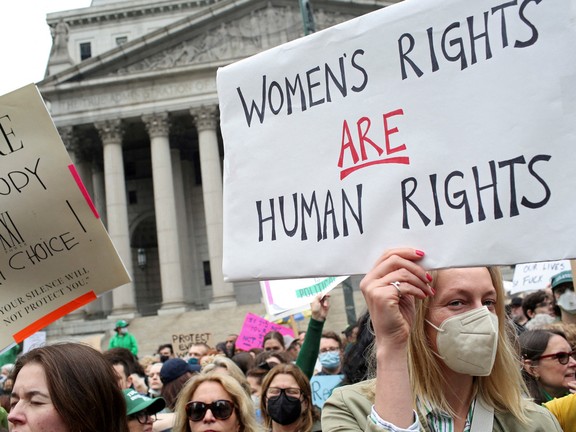 Article content
I didn't plan to have an abortion, but I would have died without one.
Article content
 My desire to become a mother was profound. In 2017, after struggling with infertility, my husband and I were overjoyed to welcome our son. Understanding our narrow chances of conceiving again, we decided to try to have another baby. 
One day in 2019, I felt excruciating pain. I was rushed to the hospital.
As I started bleeding, the doctor gently said, "Dallas, you need to brace yourself for the worst-case scenario of a miscarriage."
"But the worst-case scenario would be a ruptured ectopic pregnancy, right?" I remember saying.
I knew then to grieve, not celebrate. If this pregnancy was ectopic, I knew it was not viable.
I drifted in and out of consciousness. I didn't know death was hovering so closely, but I remember the feeling of being alive began to fray. I was transferred for emergency surgery.
Article content
As I lay on the operating table, I feebly tried to make jokes to lighten the mood, but I could barely breathe because of the pressure around my ribs. A nurse explained this was due to severe internal bleeding. 
I recall the terror. I sensed my consciousness deteriorating. I felt desperate to hold my son again. We'd just celebrated his first birthday. I didn't want to leave him. 
With great compassion, my surgeon told me she would take care of me, that I would see my son again and one day maybe even have another baby.
The surgery she performed — an abortion — saved my life.
Without access to this abortion, I wouldn't be alive, my son would no longer have a mother and my daughter wouldn't have been born.
We know that abortion is health care.
Article content
---
We are two physicians — one working in the ER, one working in women's health — who see circumstances like Dallas's, as well as myriad challenges faced by pregnant patients every day. Each story is different, and each patient deserves the right to make the choice that is right for them.
As an obstetrician-gynecologist, it is a privilege to care for pregnant people; there is delirious joy, but also moments of vulnerability and pain. I have looked into a mother's eyes while explaining that her baby's heart has stopped beating. I have sat with a mother when her blood pressure soared so high that delivering her tiny baby was the only option. I have looked at ultrasounds knowing that soon a parent will hear the worst news of their life and must make the most difficult decision imaginable.
Article content
As an ER doctor, I've seen abortions save lives: from miscarriages or ectopic pregnancies, to a mother whose heart had stopped and required an immediate C-section to save her own life.
However, as physicians, we have both learned that pregnancy is rarely black and white. Perhaps it is a wanted pregnancy accompanied by a life-limiting fetal diagnosis. Maybe it is an accidental pregnancy that is not "happy news" but a death sentence. Or, a pregnancy for a person whose life trauma has left them facing extreme challenges or without resources. They do not owe anyone an explanation of their choice to terminate. We provide health care to every pregnant patient and do so without judgment. Abortion, like other medical choices, should be between patient and physician.
Article content
We take for granted that maternal mortality is rare, even though worldwide, approximately 830 women die from preventable causes related to pregnancy and childbirth each day. Most of these deaths are in countries where resources like abortion and contraception are unavailable. The death of a parent in pregnancy or childbirth leaves families with a gaping hole where that person should be.
Pregnant people's health should be valued. Their lives should be valued. Last week, the basic human right of body autonomy was taken from half the population in one of the largest nations in the world.
"Barriers to abortions do not reduce the number of procedures. Instead, restrictions drive women and girls into life-threatening situations:" Dr. Zsuzsanna Jakab, deputy director-general of the World Health Organization.
Article content
It is estimated that 30 people die for every 100,000 unsafe abortions in developed regions. As many as 61 per cent of Canadian women have had at least one unplanned pregnancy, and at least one per cent of all pregnancies result in an intended abortion.
In Canada, we see barriers to abortion access for people in rural and remote communities. For rural residents, financial and geographical barriers can be exacerbated by unsupportive employers and a lack of childcare.
We cannot take for granted that we live in a country that values and respects the lives of pregnant people. We must stay vigilant, and insist our elected leaders not only support but champion reproductive health rights. We must destigmatize abortion and provide training for physicians, nurse practitioners and rural midwives.
Article content
We must ensure our children's school curriculums include comprehensive and inclusive sexuality, reproductive health and contraception education. We must empower girls to expect their health and lives are valued. We must teach boys and men that the fight for gender equality is not just for women. Because abortion rights are human rights.
As mothers and physicians, we know that abortion is health care.
Dallas Curow is an Edmonton-based commercial and portrait photographer. Dr. Stephanie Cooper is an obstetrician-gynecologist and maternal-fetal medicine doctor in Calgary. Dr. Shazma Mithani is an ER doctor working with both adult and pediatric patients in Edmonton and is an assistant clinical professor at the University of Alberta.