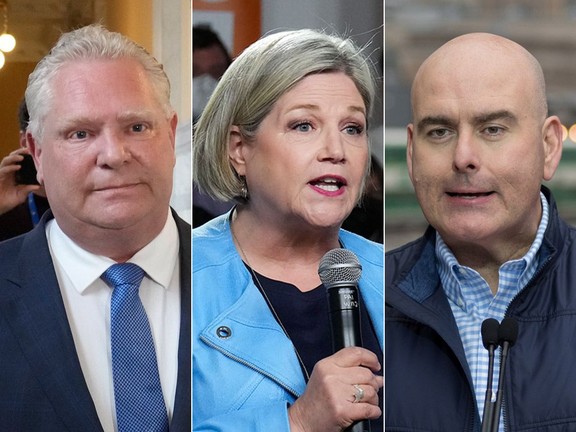 Article content
Where the leaders are today:
Article content
Conservative Leader Doug Ford: Ford started his day in Kitchener, announcing his party's plan if re-elected to build a new Highway 7 between that city, Waterloo, and Guelph. He had scheduled campaign stops for the remainder of the day in Cambridge, London North Centre, Chatham–Kent–Leamington, and Windsor–Tecumseh.
Liberal Leader Steven Del Duca: Del Duca chose Scarborough–Guildwood for a morning announcement about his party's pledge to add $3 billion in funding for mental health and addictions services. His day was to continue at the Unionville GO station in Markham, talking up his party's buck-a-ride transit pledge, before moving on to a nearby meeting with small business owners and then an evening meet-and-greet with supporters in St. Catharines.
Article content
NDP Leader Andrea Horwath: Horwath was in Paris (Ontario) Thursday morning, in the riding of Brantford–Brant to announce details of her party's proposed universal mental health care plan. She was then off to a community health centre for in Elgin–Middlesex–London to mark International Nurses Day by thanking some of them. Later on, she had a date with volunteers working on NDP candidate Ron LeClair's campaign in Essex.
Green party Leader Mike Schreiner:  Schreiner unveiled his party's costed platform Thursday morning in Toronto's University–Rosedale riding, alongside his party's deputy leaders and other Green candidates from the area. His plan for afterwards was to meet with the editorial board of the Toronto Star and finish his day with a candidates' town hall in his home riding of Guelph.