"First and foremost, we need to apologize to our customers for any inconvenience they are experiencing."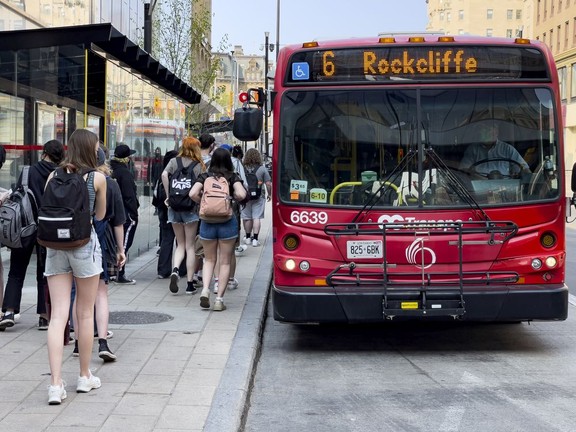 Article content
OC Transpo riders' woes continued on Friday, with hundreds more bus trips cancelled, adding to the roughly 650 that were scrubbed on Wednesday and Thursday combined.
Article content
More than 200 bus trips were cancelled on Friday morning alone — leaving many would-be riders in the dark, or abandoned out under a hot sun, as they waited for a bus — and then another, in at least one case — that never came.
The cancellations, according to OC Transpo, are the result of numerous factors, including staff shortages and summer holidays, higher-than-usual sick leave absences and overtime worked recently due to maintenance on the O-Train Line 1.
Changes to the federal labour code, entitling bus drivers to a 30-minute break for every five hours of consecutive work, have also posed a challenge.
But citizen transit commissioner Sarah Wright-Gilbert says the blame for much of the problem lies squarely at the feet of OC Transpo management which she says has known for months of the staffing shortage, yet told its drivers to take holidays during the summer as it couldn't promise that time off would be available this fall.
Article content
"They knew they were short anywhere between 80 and 200 operators," said Wright-Gilbert. "I questioned them on it and got the usual 'Well, there's no school runs. People are on vacation. There are fewer people going into the office. We'll manage it.'"
But tell that to someone who was waiting for the No. 6 Rockcliffe bus from Greenboro on Friday afternoon, unaware that OC Transpo had cancelled the 1:01 p.m. departure, its website advising riders that the next one would be along in 15 minutes. And tell that to the same strandee who may not have been armed with internet access and so didn't learn that the 1:16 p.m. bus was also cancelled.
"OC Transpo seems to have, on so many things, the inability to plan ahead," said Wright-Gilbert. "They're very reactive and not proactive.
Article content
"We were talking about this issue of drivers taking vacation in the summertime months ago. And instead of proactively going out there and saying, 'Look, we're going to be having some cancellations of routes, and we're prioritizing the routes that have the most people on them or that are servicing hospitals, they just stay quiet."
But Troy Charter, the city's director of transit service delivery and rail operations, said on Friday that "hindsight is 20/20."
"We're always looking at ways to improve our communications and get better at telling our customers. You want to give your customers enough time to be able to make alternative arrangements or plan their day, plan their week, but at the same time, we have staff here that work 24/7 that are doing their best to fill as many trips as possible. So it's always that balance between when do you go and say 'We have a challenge.'
Article content
"But I understand everyone's frustrations," he added. "We have a great team of people here who take pride in what they do, and it's hard on them as well. I'm not trying to minimize the impact it has on our customers, and I think, first and foremost, we need to apologize to our customers for any inconvenience they are experiencing."
Among the bus trips that take priority, Charter added, are the first and last ones of the day on each route, ones on routes that are infrequent or where other travel options are limited, routes carrying school children and those servicing hospitals.
OC Transpo general manager Renée Amilcar sent a memo to city council on Friday, outlining Transpo's plan to hire "up to" 300 new operators. "Customers," the memo noted, "can expect service reliability to increase mid-August, when a group of 32 new bus operator trainees graduate."
The memo also assured council of OC Transpo's commitment to providing customers with "accurate, relevant and timely" information about service disruptions, while in the next sentence acknowledging that it hasn't.
Wright-Gilbert argues that OC Transpo has lost the goodwill of the public. "And the way to get it back is not by cancelling 300 buses, or if you absolutely have to cancel them, warn people a couple days in advance so they can make changes to their plans."